Book Your Driving Lessons
Manual, Automatic, and Refresher Courses in Coventry, Nuneaton, Warwick
We not only pride ourselves with top quality manual, automatic, and refresher driving lessons but also we give price guarantee to give you complete peace of mind.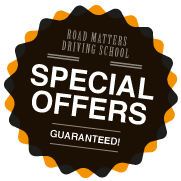 If thats not enough we have some special offers to help you make that important decision. Our normal price of 1 hour driving lesson on one to one bases is 20 pounds per hour, but below are our special 0ffers
First Lesson 14.99  (You save 10 pounds)*
Book 10 Lessons and get 1 lesson FREE (You save 25 pounds)*
Book 20 Lessons and get 2 lessons FREE (You save 50 pounds)* Plus a free Theory CD
Our Price Guarantee: If we're not cheaper than AA, BSM or Red Driving Schools we'll give you the difference. Guaranteed! its a Road Matters Promise, so call us now to book your first driving lesson. All the above offers are only valid for manual driving lessons please call for automatic driving lessons.
Choose you package below and pay now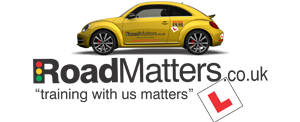 Facebook Updates
"Had 42 hours and passed first time in coventry with only 3 minor/ driver faults, great teaching and I'm glad I chose road matters!" Sana
"I had no previous experience and no access to private practice, I only had 40 hours and passed first time in coventry" Leo
"It is so lucky to train with Road Matters as with my instructors help, I passed my manual driving test at first time in coventry with only 38-hour-lessons and no previous driving experiences. Thanks soooo much!" Lisa
"When I started with Road Matters I had already failed quite a few of times. I thought that I will never be able to pass the driving test and get a full licence! I had already changed 3-4 instructors before with no luck of passing the test. Peter helped me build my confidence as a driver. I think that he is giving very valuable feedback as well as he is picking up small mistakes that no other instructor did.After 3 months with him my driving skills were improved massively. Even thought I only had one lesson/week or sometimes even one lessor every two weeks due to me being away, the time that he spends with you is about the quality and not the quantity. He helps you change your mindset about driving and improves your planing. He helped me making my dream of getting my driving licence reality! I do believe that if you have difficulties passing your test he is the only person who can help you!" Anna
"I failed my test few times in Rugby but I passed easily with road matters in coventry" Dann
"I had 10 hours and passed first time without any problems"Sam
Congratulations on passing your driving test on the first attempt
Congratulations on passing your driving test on the first attempt
Congratulations on passing your driving test on the first attempt
Congratulations Bethany on passing your driving test on the first attempt with only three driver faults. Well done
"After failing my driving test XXXX times with one of the national driving school, I'd put off learning to drive and I had started to think that I'd never drive in England though I had previous driving experience from my country. However, it then became apparent that I needed to drive to afford home and work responsibilities and to make my life easier. I then came across Road Matters Driving School. From day one I found that My driving instructor was able to fit me straight away, and although I was nervous, our first lessons were motivating, comprehensive, systematic and well planned. In one lesson, He was able to make an evaluation of my needs as a learner and provided me with theoretical knowledge and practical skills needed to reach what he called 'QUALITY DRIVING'. The driving training I took was really comprehensive and was based around my needs. In four months I made a fast progress and He helped me re-build my confidence ready to re-take my test which I passed easily in Nuneaton with only three minors. At times I felt that I was slow learner and struggled with understanding how roundabouts function and how lanes work. But he never made me feel that way and always made me feel like I was making progress. His easy-going nature and sense of humor put you at ease. He is been patient with me all the way through and gave me very useful THEORETICAL INSIGHTS to test standards. If you are looking for an extremely creative, supportive and knowledgeable driving instructor who will do great effort to improve your driving, call Road Matters or visit www.roadmatters.co.uk . Believe me you won't regret it. I'd thoroughly recommend this driving school to anyone looking for QULAITY DRIVING". LINA
" I failed my 1st driving test with my previous driving instructor. So I decided to change as I felt my learning needs wer'nt being met. I joined road matters driving school, my instructor got to know me and got to the root of my driving errors and took time to understand why they were occurring. I would recommend Road matters driving school to everyone. After few driving lessons I passed my driving test easily" Rebecca
"I was having difficulty in passing my driving test, but after few lessons I passed with ease, thank you"Ketan
Learning to drive with Peter at Road Matters driving school was truly a life enhancing experience. His approach to driving instructing not only prepares you to pass your driving test in a short amount of time, but it also teaches you how to become an effective, competent and safe driver for the rest of your driving life. Whats more,his friendly and warm nature quickly leads to him being not only your driving instructor, but also a mentor in life. I actively recommend Road Matters driving school to anyone I know who are considering driving lessons. Damien Swain.
I am very pleased to say that I passed my first test in Coventry with the help of Road Matters driving school. I came to the school with previous driving experience and one failed test under my belt. The missing ingredient was confidence in my own abilities as a driver, which comes with knowing how (italicized) to use your skills. This is exactly what I gained from Road Matters. I also have to commend my instructor's calm, collected and understanding approach to driving lessons because as a learner driver I have a tendency to be nervous and tense. I would therefore highly recommend Road Matters driving school to anyone wishing to become a confident driver. Alise
"I was recommended Road Matters Driving School by a friend of mine, I didnt had any driving experience at all, I had all my driving lesseons in coventry and passed my driving test first time with only 2 driver faults... all I can say it they deliver what they say" Amalia
"I found road matters driving school through Internet, after reading so many positive reviews I decided to book my driving lessons, the problem was my driving test was in 4 days, on my first driving lesson my instructor said I am not ready and will be wasting my money but I didn't had time to change my test date, as I was informed I didn't passed my driving test. After having 10 driving lessons my driving instructor said this time I will pass without any problems and sure enough I passed with only 4 driver faults, I am very pleased" suzy
"I have used various driving schools in the past but could not see any progress in my driving skills, then one day my friend recommended me to Road Matters Driving School, I am so happy now with my progress that I travel from Rugby to Coventry by train for my driving lessons, my driving lessons cost me more money and time but its all worth it" Sandis
"I had some of my driving lessons in Coventry and some in Warwick, I was four weeks away from my driving test date and my driving instructor said I don't need to take any more driving lessons as I am ready for my driving test, he said I will pass my driving test without any problem. One day before my driving test my instructor gave me one driving lesson and next day I passed my driving test on the first attempt with only 4 driver faults, extremely pleased from this driving school" Alex
"I had few driving lessons with one of the local driving instructors in Coventry and failed my first driving test with 16 driver faults and two serious faults. My friend recommended me to road matters driving school, on my first lesson I was assured that I will pass my driving test on the first attempt. I had 15 driving lessons in Coventry and passed my driving test without any problem, thank you road matters driving school" Robert
"I found road matters driving school through google, after reading so many positive reviews I decided to book my driving lessons. Today I passed my driving test first time with ease, very professional driving instructors with one to one driving lessons, I didn't bought cheap driving lessons instead I decided togo with quality driving lessons so I could pass my driving test first time" Pablo
Congratulations to Imran on passing his driving test in Coventry on the first attempt with only 20 driving lessons. Well done
Congratulating Manpreet on passing his test on first attempt with only 2 driver faults, well done
Best Christmas Gift for your loved ones- Driving lessons- it lasts life time, You can buy one driving lesson or customise a package Call Now 07979790179
Congratulating Anita on passinig her test, well done